Get funky with DNCE on 10 August at SOUNDBOX at Muangthai GMM Live House
---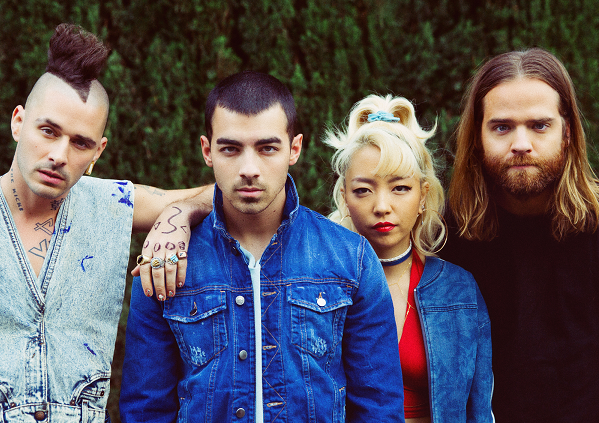 SOUNDBOX is back! Live Nation BEC-Tero is proud to present the dance-pop hitmakers DNCE in Bangkok for one show only on 10 August.
            DNCE will be playing their smash hits "Cake By The Ocean", "Kissing Strangers" and more at Muangthai GMM Live House on the 8th floor at CentralWorld on Thursday 10 August. The band will be joined by two special guests: SEKAI NO OWARI, one of Japan's biggest groups and known across the globe as End of the World, plus America's Gnash, famous for his Top 10 hit single "I Hate U, I Love U"All. All tickets are priced at Bt2,500 and go on sale on 25 June. For more information log on to www.thaiticketmajor.com.
            DNCE's all-star members include frontman and former member of the Jonas Brothers Joe Jonas, former Semi Precious Weapons bassist & keyboardist Cole Whittle, South Korean-born guitarist and the only girl in the band JinJoo Lee, and drummer Jack Lawless, who has previously played with the Jonas Brothers, Night Terrors of 1927, and Soft Swells.
           Formed in the summer of 2015, DNCE announced themselves to the world with the release of their hit debut single "Cake By the Ocean"," their now 3x certified platinum-selling breakout smash. Included on the group's 2016 self-titled debut album [Republic Records], "Cake By The Ocean" entered the Top 10 on the Billboard Hot 100 chart and became a hit at Top 40 radio, where it went on to become one of the most played songs of the year.  An international success, global consumption of the song is over 7 million adjusted singles, including nearly 550 million streams on Spotify worldwide. What's more, the companion music video has over 256 million views on VEVO.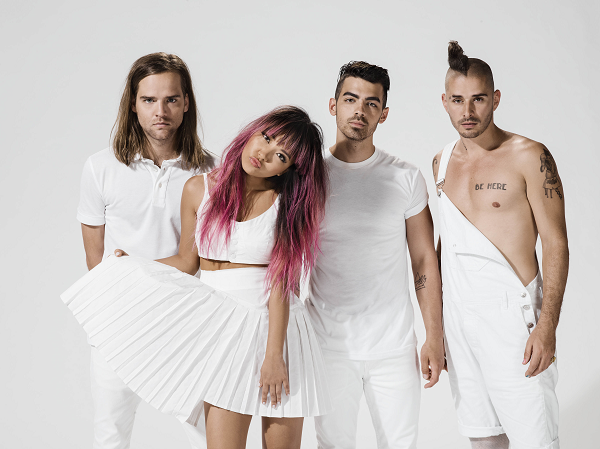 Following up "Cake By The Ocean," the sexy, gold-selling "Toothbrush" amassed over 68 million YouTube/VEVO views with an unforgettable music video starring supermodel Ashley Graham as well as achieving global consumption over 1 million. Moreover, it received widespread critical praise from the likes of Entertainment Weekly, People, and Rolling Stone.  Their next release was for their sexy single "Body Moves" starring model Charlotte McKinney which has over 25 million views.
Cementing them as one of 2016's breakout acts, the band took home the win for "Best PUSH Artist" at the 2016 MTV European Music Awards and "Best New Artist" at last year's MTV Video Music Awards.  Recently, the band released their new single called "Kissing Strangers" featuring global superstar Nicki Minaj and is now making its way up the world's music charts.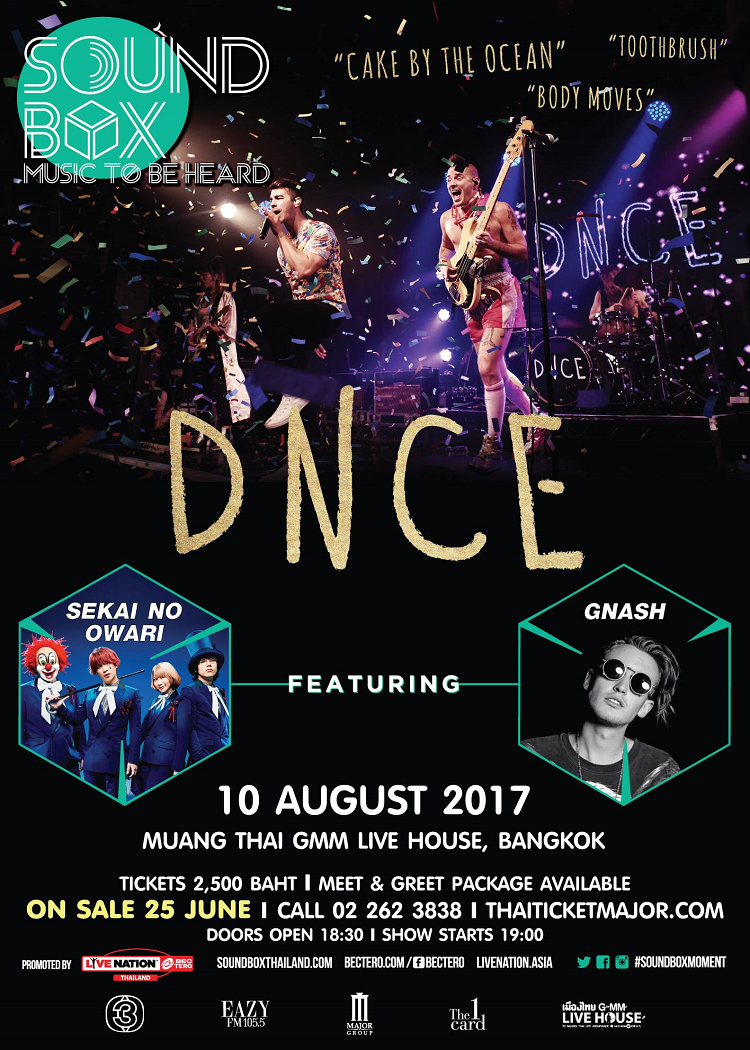 Get ready to get down with DNCE at SOUNDBOX on 10 August at Muangthai GMM Live House. Tickets are priced at Bt2,500. Pre-sale tickets are available for My Live Nation members on 23-24 June. To subscribe for My Live Nation membership, visit www.livenation.asia/register. Regular public ticket sales start    25 June from 10.00am at all ThaiTicketMajor counters or log on to www.thaiticketmajor.com. For more information, please contact: 0-2262-3838 or follow us on: www.bectero.com, www.facebook.com/bectero, Twitter: @BEC_Tero_Ent and Instagram: BECTERO_ENTERTAINMENT.